At present at 47-48 km of Primorskoye Shosse in Repino "Consular Village" low-storey residential complex is under construction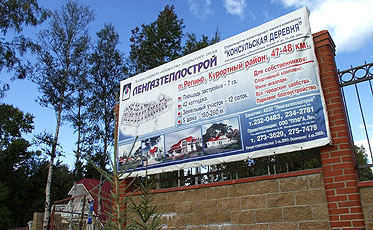 Project summary:
- Construction area - 7 ha
- Earth plot - 12 hundredths
- Cottage area - 180-280 sq.m
- Price for 1 sq.m of the house - 1000$
- Number of houses - 42
There is a stone fence 3 meters high with metal grates along Primorskoye Shosse, it is solid from the side of the residential house.
Within 100-400 m from "Consular Village" there is "Mara" Trading Center, a kindergarten, a polyclinic, a school, holiday hotels, cafes and restaurants.
Transport communication: Primorskoye Shosse (the lower road), the upper highway, the rail way.
The price for 1 sq.m includes:
Engineering preparation of the territory, outside and inside networks, water supply, sewerage, telephone, power supply
Ownership share in "Arkadia" sports complex, swimming-pool, Finnish sauna and Turkish bath-house, children's aqua-park and playground, gym, squash, billiards, table-tennis
Stone house for inside finishing, "Rannila" metal tiling, glass packages, "Herman" automatic garage gate
All engineering services have been entered inside the house. Besides, a multipurpose imported heating boiler will be installed
Landscaping
Asphalt, tile paving, small architectural forms, lighting, security, greenery, "Korn" entrance sliding gate, check point.
Earth plot for ownership
Actual vicinity of the Baltic Sea, excellent ecology, sea air, coniferous forest, good transport communication, complex security, homogeneous social environment - this is what you and your children need.